When it comes to home water heaters, there are all sorts of types and sizes. While each provide the same end result to get hot water flowing throughout your home, some water heaters operate differently than others. Whatever type of water heater you have, you can trust DALCO Heating & Air Conditioning to handle it.
We are your team of professional water heater repair technicians serving the entire Denver metro. Our team of trained technicians have the experience to repair and maintain the water heater system in your home.
Types of Water Heaters
Conventional storage water heaters
Demand (tankless or instantaneous) water heaters
Heat pump water heaters
Solar water heaters
Tankless coil and indirect water heaters
SYSTEM MAINTENANCE
Just as there are important maintenance tasks for your furnace and A/C, such as changing the air filter, there are important routine tasks to handle with your water heating system. Different types of systems require different maintenance work. We will make sure you have all the necessary information to handle the work your new water heater will need. DALCO Heating & Air Conditioning also provides a service plan to provide the maintenance work your water heater needs on an ongoing basis. Learn more about our Peace of Mind preventative maintenance program.
IS YOUR WATER HEATER BEYOND REPAIR?
Water heaters, when maintained properly, can easily last a decade or longer. If you have an older unit, or just one that is causing many costly problems, it may be time to considering having a new water heater installed in your home. If that is the case, DALCO Heating & Air Conditioning provides professional water heater installation.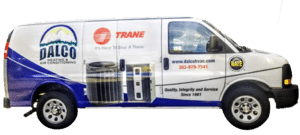 CONTACT DALCO TODAY FOR AN ESTIMATE ON WATER HEATER REPAIRS & INSTALLATION IN THE DENVER METRO AREA.