Is your current water heater breaking down?
Having trouble not getting all the hot water your family needs on a regular basis?
Are you considering switching to a tankless water heater?
When it's time for a new water heater system to be installed in your home, trust the experts at DALCO Heating & Air Conditioning. We provide water heater replacement service to homes all across the metro Denver area.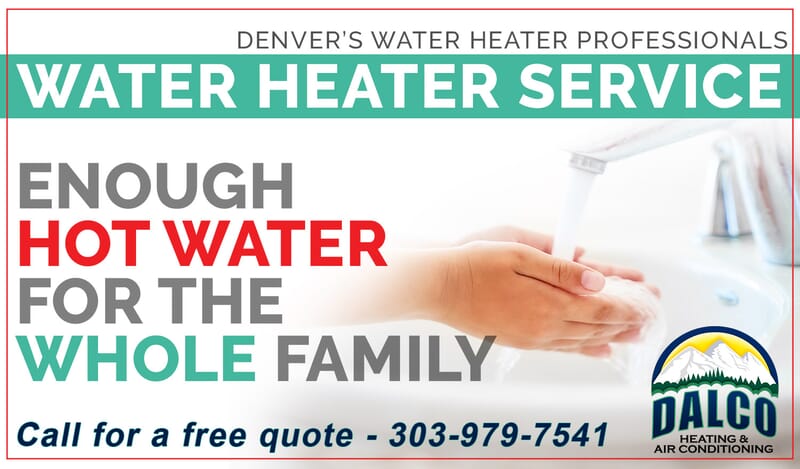 PROFESSIONAL WATER HEATER INSTALLATION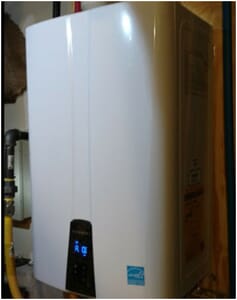 While there are many repairs and tune-ups that homeowners can do on their water heater, installation of a new system is probably not possible. There are a lot of factors involved that are too difficult for a non-professional.
To start with, you may not be able to determine on your own which type and size of water heater is right for you. You may need help knowing whether you should go with a tankless water heater or a traditional one.
Often local governments have specific codes and ordinances regarding water heater installation. Professionally trained technicians like those at DALCO Heating & Air Conditioning will know what those codes are and ensure they are all followed. These codes are often in place for you and your family's safety.
DALCO's professional water heater technicians are licensed and bonded to make sure the equipment is installed properly and safely.
SELECTING THE RIGHT KIND OF WATER HEATER
Getting too big or too little of a water heating system can really be a problem. You could end up with a system that can't keep up with your family's needs for daily hot water usage. Or, you may end up paying much larger heating bills than necessary. Is a traditional water heater right for you or should you go with a tankless water heater?
When you decide to install a new water heater, our DALCO Heating & Air Conditioning experts in Denver will walk you through the various factors to help you choose the water heater that's exactly right for your home.
Some factors in determining the right system include:
Fuel type: There are several types of energy sources to choose from including electric, natural gas and even geothermal energy.
Size: Size issues include the amount of water the tank will hold as well as the space available to house the water heater unit.
Energy efficiency: Different systems have different energy efficient ratings.
Costs: Not just the cost of the equipment, but the operating costs are also a factor.
LET DALCO HANDLE YOUR WATER HEATING NEEDS TODAY!
Trust DALCO Heating & Air Conditioning to expertly install a new high-efficiency water heating system in your home. We service the entire Denver metro. Call us for water heater installation at 303-979-7541 or request service online, we will make sure to provide you the water heating solution you need.
In addition to installation, DALCO provides professional repair and maintenance of your water heater. Is it broken? Is it not supplying sufficient warm water throughout your home. Let us come out and fix whatever problem your water heater is having. We can service any type of water heater you may have, from conventional, solar to a tankless water heater.