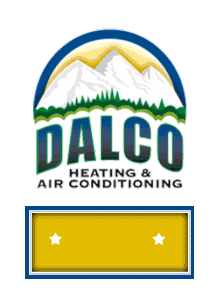 At DALCO Heating & Air Conditioning, we are absolutely committed to providing the best service for customers across the entire Denver metro area. And we know that means giving customers exceptional quality service a fair price.
But you don't have to take our word for it.
Our customers have been sharing their experiences working with our friendly DALCO technicians. So many people across Denver have given us glowing service reviews on Google, on Facebook, and on review sites across the internet.
DALCO Heating & Air Conditioning has provided professional HVAC service to the Denver area since 1981. Over the past 4 decades, our commitment to quality systems and friendly and professional service continues. And we appreciate hearing feedback from our customers who have appreciated our hard work.
EXCEPTIONAL HVAC SERVICE AT FAIR PRICES

We had a whole home humidifier added to our home. The guys at Dalco were fast to respond with a bid, priced right and showed up on time. All work was done in a timely and professional manner.

-Joe Solomon

I have used Dalco Heating twice and since my technician on the first call Travers was so professional, honest and skilled I requested him for the second job. He validated that parts were covered under warranty, got them ordered, got me scheduled and did the work in a short period of time. I will always call Dalco in the future!

-Gary Leitner

Dalco did a great job for us. I'm really happy we found an HVAC contractor that we can trust.

He took the time to explain to us what was going on with our AC system, and also the peculiar demands that Colorado's dry, thin air places on AC systems and how we could best deal with that. He also has a great work ethic.

We will continue to use them in the future, and I recommend them highly.

-Ed Parcell

We installed a new whole-home humidifier, and it was easy! Roman did our install and he was prompt and courteous, even as my crazy dog barked at him. Would definitely recommend Dalco for all HVAC needs!

-Michelle Simutis

DALCO has been great. Clear communication from the office has always happened. Prompt arrival times. They are our new go-to folks. As a new house owner, it's great to find someone that is dependable.

-Matthew Fuller

Great service and friendly tech who helped educate me about maintenance and settings I hadn't been handling correctly! Thank you!

-Annette Rebellato

They came out quickly and on time, analyzed the problem, ordered parts, scheduled return trip to my schedule. All the way providing estimates. I mentioned issues with my thermostat, and he replaced that with the same time, added cost but hey, another job done, reduced worries. Did I mention friendly.

-David Stevens

We worked with Marc, he and his team did a great job. Reasonable price for the new furnace, they did what they said they were going to do in the time they said it would take. Like another user said, "no pressure sales, no drama, go in and go it done." This was our experience too. We have worked with several contractors over the years and Marc has been the best one yet.

-Jessica H

Dalco helped us out with a same day appointment when our A/C stopped working. Travers was right on-time and while he couldn't fix our A/C in that visit (it had iced over and needed to defrost), he got us scheduled for a 7am appointment a few days later and even offered to lend us his own window A/C unit to get us through the weekend. He got the system back up and running at the next appointment. Price was fair and service was exceptional.

-Eliot Abel

Our water heater stopped working. We called around and was charged 2.5x what this company quoted. The technician came out assessed the issue explained what was going on. Practiced safe COVID measures and made needed recommendations. He got my family hot water timely and even gave us time to add an extra furnace cleaning service to our appointment. We will definitely use this company again!!!

-Chandrea C
You can trust DALCO Heating & Air Conditioning to be the Denver area HVAC company to deliver exceptional quality at a fair price!
Have our technicians repaired or replaced your home comfort system? Please leave us a review on our Google page or on our DALCO Facebook page.
If you have questions or need heating and cooling service, call our Denver office at 303-979-7541.