Tax Credit for Denver Homeowners Who Upgrade their Heating & Air
Save Money with New Energy Efficiency HVAC Systems
April 2020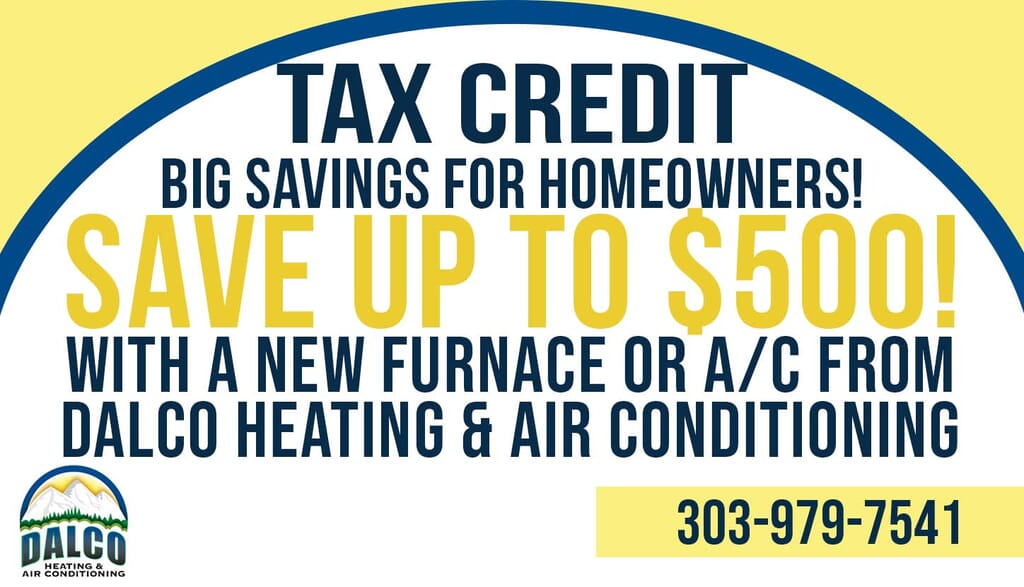 Upgrade Your HVAC and Be Rewarded
If you ask us, it's always a good time to upgrade your heating or cooling system. If it's old, if it's breaking down, or if it's simply just not working as well as it should be, an upgrade will result in some great benefits. At DALCO Heating & Air Conditioning in Denver, we see first-hand every day those modern, efficient systems working better to provide homeowners across Denver consistent temperature control. And they are providing more comfortable air that requires less energy to create! Thanks to a federal effort to increase energy efficiency, there is even another benefit to make this upgrade to your home right now – a large tax credit!
The federal government is extending a tax credit to homeowners who make certain improvements to their home's heating and air system. This tax credit is available for people who get a qualified HVAC product installed in their home. If you live anywhere in the Denver metro area, DALCO Heating & Air technicians can provide the HVAC installation to qualify you for this savings.
How Much Money Will You Save?
This tax credit includes quite a few opportunities for you to save money. Whether you need a new heater, a new air conditioner or even a new water heater, there are a lot of improvements that qualify you to claim this credit. How much you will save depends on what upgrade you get. At the largest level, you could be eligible for tax credits that total $500.
What systems and products do you need to get installed? See the full detailed list of eligible items here and what amount each qualifies for. While some included items can result in you getting 10% of the cost, others qualify you credits of specific amounts ranging from $50 to $300.
What HVAC Installations are Included in this Tax Credit?
This governmental tax credit was created to encourage homeowners across the country to improve the energy efficiency of their homes. The heating, cooling and other systems that qualify for the credit are all very energy efficient systems. If you take some of the qualifying efforts to save energy, the government will reward you with a tax savings!
For the credit to apply, the necessary HVAC systems or units (referred to as "property" in the government's description) must be installed or "placed in service" in a home residence. This tax credit is only for homes, not for HVAC upgrades to businesses.
The qualifying heating, air and other home equipment come with specifications on their individual energy efficiency ratings.
Air conditioners would need to have a high SEER rating. Some central air conditioner systems result in a credit of up to $300.
A furnace or boiler would need to have an AFUE rating of 95 or higher. A propane, natural gas or oil furnaces and boilers can qualify for a savings up to $150.
Water Heaters (gas, oil and propane) need to have a UEF rating of at least 0.82 or a thermal efficiency of at least 90% (and yes, DALCO installs water heaters as well).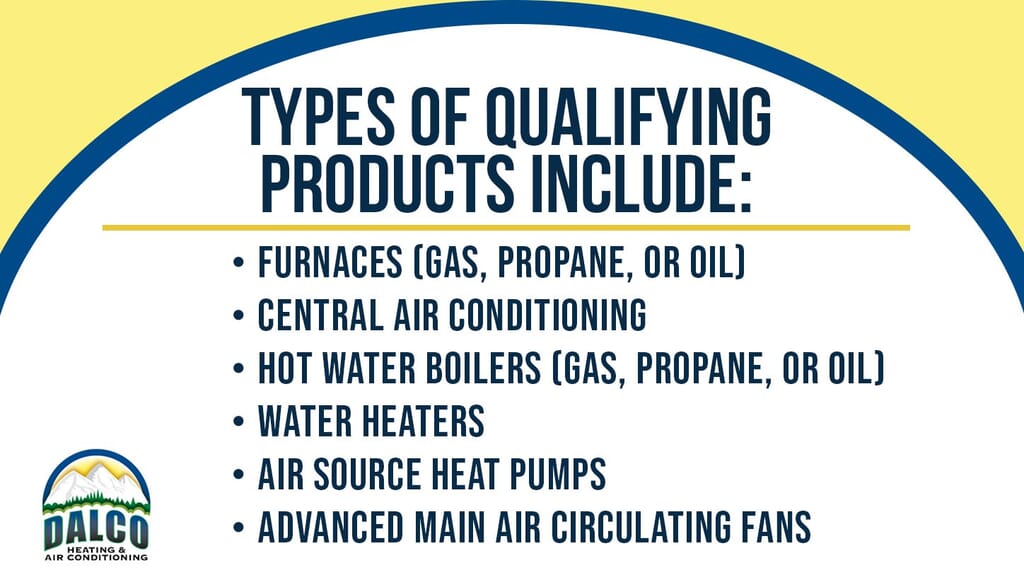 For the full list of the specific type of products that qualify for this credit and how much money each item qualifies for, refer to the property tax credit list on EnergyStar.gov.
If you need information on applying for this federal tax credit, go to Energy Star's Tax Credit page. You can also find links on that page for tax forms and contacting the IRS.
How Long Before this HVAC Tax Credit Expires?
If you find this article shortly after being published, you have plenty of time. This tax credit is available for those who make these HVAC improvements before the end of this year, December 31, 2020. So, if you are dealing with an old AC, a broken heater, or simply some system that isn't keeping your home as consistently comfortable as it once did, now's the time to act! This tax credit is a great reason to prioritize this important home investment upgrade before the year is over.
What if I Just Had a New System Installed?
You are in luck! You can still take advantage of this savings! While this tax credit is for installations that happen in 2020, it is also retroactive to 2018. If you did already purchase and get installed any of the qualifying items within the last 2 years, you will still be able to apply for this energy efficiency credit.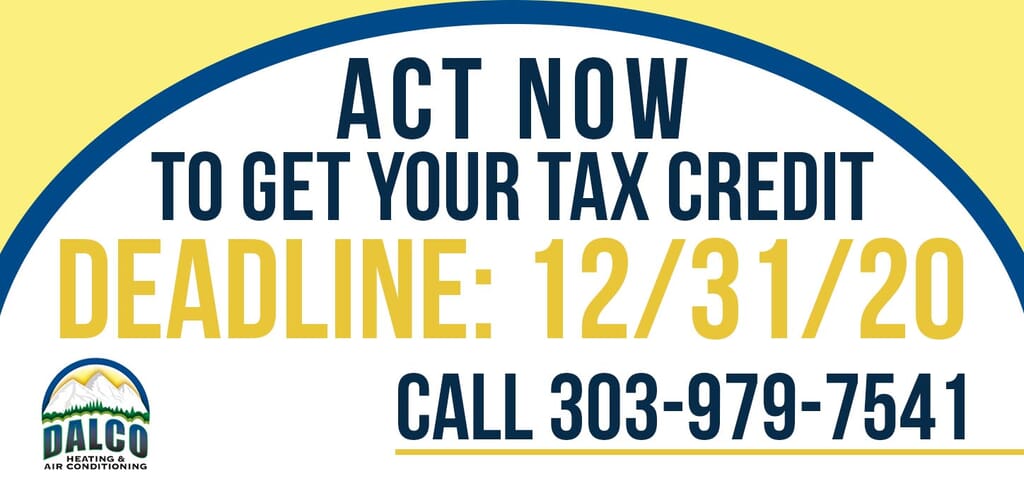 Other Home Energy Tax Credits
In addition to credits for improving your heating and cooling system to your Denver house, other home improvement products that improve energy efficiency can qualify you for a tax credit. Some of the other upgrades included in this federal tax credit include new insulation, roofs, windows, and doors. Refer to this list to see what all qualifies for this specific tax credit.
Ready to Invest in HVAC Improvements for Your Home?
Take advantage to save money before the tax credit deadline! Contact us at DALCO Heating & Air Conditioning in Denver by calling 303-979-7541. We provide service to homeowners across the Denver metro area. We will make sure our experienced heating and AC technicians upgrade your home with a new furnace or air conditioner in time to qualify for this credit.
A new efficient unit will provide you consistent comfort throughout your home. In addition, expect to see a savings every month. Modern HVAC units that run more efficiently use less energy, which means a lower total on your energy bills.
Our team at DALCO Heating & Air Conditioning in Denver are HVAC experts and would be happy to address any problem or question you have about heating or cooling your home. Ask-a-tech online today! But taxes are a different story. We are not tax experts. For questions or instruction on applying for federal tax credits, you'll want to consult a tax professional.