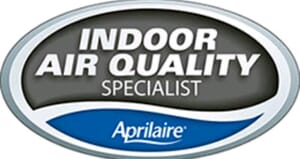 Let DALCO Heating & Air Conditioning, serving the entire Denver area, help you breathe easier in your home.
DALCO Heating & Air is the Denver area's professional installers for residential and commercial indoor air quality systems. We are one of the biggest dealers in the entire state of Colorado for a variety of effective modern indoor air quality products that work to both effectively clean and treat your air in the fight against viruses, bacteria and harmful contaminants.
Our air quality technicians are trained and highly experienced in installing proven indoor air quality products that provide a variety of solutions to improve the air you breathe in your home.
Indoor Air Cleaners aren't just for people with musty homes or just for people with health allergies. The issue of indoor air pollution is a real issue for a majority of homes. In fact, polluted air is found in 85% of homes!
The EPA has named indoor air pollution as one of the top 5 environmental risks to public health.
Air Filtration to Improve Indoor Air Quality
While your heating and cooling system cannot prevent the transmission of dangerous viruses such as the coronavirus, the use of professional air cleaners have been proven to help improve the air filtration, ventilation and humidity that helps reduce infectious airborne particles.
With the issue of polluted air being a problem for 85% of homes, there's a good chance this is a real problem for you. A whole-home air purifier helps to manage your home's health and protect your heating and cooling system at the same time.
DALCO Heating & Air Conditioning provides professional installation of high-tech air filters for homes and offices to give you the opportunity for the purest and cleanest air possible inside. DALCO Heating & Air Conditioning is one of the largest dealers across Colorado for Aprilaire 5" MERV 13 Media Filters.
For commercial or residential purposes, air filters have been shown to reduce the harmful containments that aggravate allergies and respiratory issues. In addition, imagine the clean smell of air that has smoke, pet dander and other noxious smells filtered out.
Best Products to Purify Your Indoor Air
APRILAIRE
The Aprilaire Air Cleaners we install capture up to 96% of airborne particles. They trap particles of all shapes and sizes: dust, pollen, bacteria, mold, pet dander, viruses and more.
Along with the ability to have an air cleaner work to reduce harmful contaminants in your home, Aprilaire provides high-efficiency air filters to purify the air that flows through your home.
While a standard air filter contains less media (the components filtering your air), an Aprilaire filter contains much more of this important media that more completely filters your air. Simply put, it's designed to do the one job an air filter is supposed to do, but do it better than any other.
TRANE CLEAN EFFECTS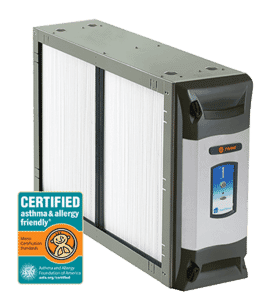 Among the various air cleaning services DALCO provides to the Denver area is installation of Trane's Clean Effects™ system.
Imagine having the fresh air smell from a nice Colorado spring day when you are inside your home. The Clean Effects whole-home air filtration system works to make your home feel cleaner and fresher than ever.
It removes up to 99.98% of the airborne particles in your home. It removes particles as small as 0.1 micron - believe us, that's small! Removing these tiny particles makes the Trane Clean Effects system super efficient at removing those microscopic things that cause big problems with your home and your health.
REME HALO IN-DUCT AIR PURIFIER
Award-winning REME HALO® whole-home air purifier is the next technology of air cleaning products from RGF. This new device is able to purify every inch of air that is reached by your central air conditioning system.
It effectively reduces odors and air pollutants. It feels like you're bringing the outdoor air inside. No more feeling overwhelmed by the smells from cooking, pets and musty rooms. The system reduces common allergy triggers from the air including mold, dander, dust and pollen.
Humidity's Effects on Indoor Air Quality
Humidity control isn't just about humidification. It is also about dehumidification. Finding the right balance of humidity in your home often requires both humidification and dehumidification services. Maintaining the proper level of humidity in your home actually improves the indoor air quality. It can reduce the number of bad particles in your air. Not only that, it can reduce the transmission of many viruses.
The Aprilaire brand of indoor air quality products includes tried and tested humidifiers and dehumidifiers that help homeowners achieve that best balance of moisture in their home. Whether too dry or too humid, let us know what problems you experience in your home, and our DALCO technicians can find the product to put the perfect comfort balance you need in your home.

DALCO Heating & Air Conditioning installs professional residential & commercial indoor air cleaners & products to the entire Denver area.
Call us at 303-979-7541 to learn how we can improve the air you breathe at home or work every day.