HEAT PUMP SERVICE IN DENVER AREA
Professional Repair & Installation of Heat Pump Systems
HEAT PUMPS FOR HEATING & COOLING
Heat pumps are an increasingly popular option for Denver homeowners to both heat AND cool their home. Heat pumps are units that handle the entire job of temperature control. They are designed to provide cool air in the summer and warm air in the winter. There are often rebates available from Xcel Energy and Denver Climate Action Rebates making them even more cost effective for Denver residents.
DALCO Heating & Air Conditioning is your local Denver company that provides the service you need for your home's heat pump system. We can provide professional repair and maintenance of your existing heat pump. We are also trained and experienced in proper installation of a new heat pump system in your home. We are the Denver area experts on heat pumps - our owner was even featured on CBS as the heat pump expert. This article has some great information about heat pumps and energy saving heat sources.
IS A HEAT PUMP SYSTEM RIGHT FOR YOUR HOME?
Finding the right heat pump to adequately provide comfort to your home and family requires expert advice. We work with homeowners across the Denver metro area to determine if a heat pump is ideal for their home needs, and if so, which one is the right choice. Depending upon size, age and other factors of your home, count on our experienced heating and cooling technicians to provide you the information you need to determine if a heat pump is right for you.
Heat pumps are not the right option for everyone. Depending on the temperature your specific area can expect to get in the winter, a heat pump may not be sufficient to fully heat your home.
You might be interested in Can a Heat Pump Work in Denver, CO?
HOW DO HEAT PUMPS WORK?
Heat pumps provide the necessary heating and cooling in a manner much different than typical HVAC units. With most common systems, such as furnaces and air conditioners, water is heated or cooled using gas or electricity. The treated air is then circulated through the ducts to your vents.
Heat pump systems operate much differently, especially compared to traditional heaters. Heat pumps work by drawing energy from the air outside your house. It uses this energy to heat the air inside your home during the winter. In the summer, a heat pump uses a heat exchanger to draw the heat out of your home to keep you cool. This is actually not all that different than how air conditioners operate.
Read Article : Heat Pump Purchase Guide for Denver Customers.
MAINTENANCE NEEDS
Just as you have regular maintenance tasks to perform on a traditional heating and cooling system, heat pumps require a level of care to ensure it works properly and efficiently. Heat pump systems are working all year round, after all. You can expect to perform such maintenance work as changing the air filter and having check-ups and cleaning, when necessary, of the equipment and duct work.
Proper maintenance will help your heat pump last longer. Let our team of professional heating and air technicians handle the heating needs of your home. Call DALCO Heating & Air Conditioning at 303-979-7541 or request service online for a maintenance service call on your heat pump.
We also provide a Preventative Maintenance Program that includes this service work for heat pumps. As a member of this program you will receive ongoing, regular maintenance of your entire system. You will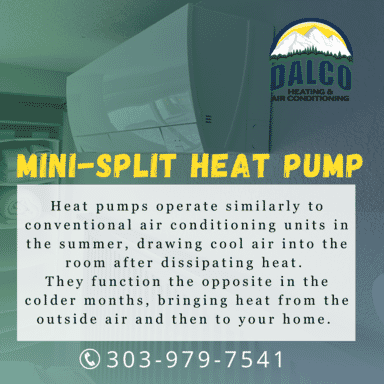 also receive great benefits such as priority scheduling, discounted service, and peace of mind knowing that your home's comfort needs are in our capable hands.
OTHER HEATING & COOLING OPTIONS
Another type of HVAC unit that works to both heat and cool your home are mini splits. These systems are ideal for smaller spaces and can provide a good efficient and cost-saving option to your heating and air conditioning needs. DALCO Heating & Air Conditioning provides repair, maintenance and installation of mini split systems to Highlands Ranch and across the Denver metro area. Call DALCO at 303-979-7541 to see if a ductless mini split system is right for you.
You might be interested in Best Furnaces of 2023