A coupon just for visiting DALCOHVAC.com!
For anyone who comes to our website and sees this special deal, you will receive $20 off a repair from DALCO Heating & Air Conditioning. See the coupons for details on restrictions and how to receive this saving. Use it before it expires!
$20 off Repair Coupon...
Just for Visiting our Website
This Coupon entitles a Homeowner to a $20.00 Discount off any Heating or Cooling Repair Service or maintenance performed by DALCO Heating and Air Conditioning at their residence. Only one (1) coupon per service address will be accepted. Coupon must be presented at the time of service. This coupon may not be used in conjunction with any other offers
Click Here to Schedule Service
Or Call 303-979-7541
Good through December 2023
Big cost savings with heating & air installation
Deciding to get both a new furnace AND air conditioning system installed is a great investment for your home. It raises the value of your home, but most importantly, a new high-efficient heating and cooling system will be so energy efficient, you'll save money on your energy bills. You will save even more money by having DALCO Heating & Air Conditioning install a complete new HVAC system in your home. For a limited time, you can save $600 when you purchase a package deal from DALCO. Call 303-979-7541 to learn more.

Share your dalco experience, earn MONEY back!
You can even make money from DALCO! To thank our customers who tell their friends and family about the great service they received from DALCO Heating & Air Conditioning, we provide a $75.00 reward to people who refer us to new paying customers! Some restrictions apply. Ask anyone at DALCO about this or any other of our special deals. Call 303-979-7541.

Less work. More savings.
Don't worry about the hassle of handling maintenance work on your heating and cooling systems ever again. For a low annual rate, with DALCO's Peace of Mind maintenance program, we'll handle your home's annual maintenance as well as give you priority service and a savings on repairs. In many cases, the discounts and energy savings you'll get from this program more than pays for the price of the program itself!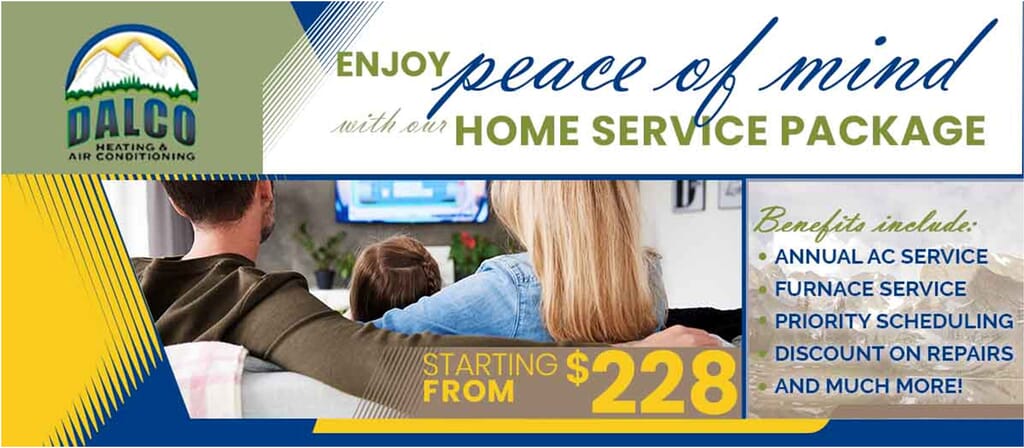 HVAC Service Finance Options
In addition to taking advantage of these special deals, DALCO Heating & Air Conditioning provides a variety of finance options. We work with you to help you be able to afford the repair or installation of your home's heating and air needs. Check out all the payment options available to you from DALCO.
Quick Links