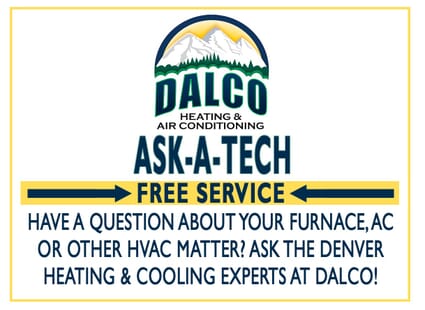 Have a problem with your heating or cooling system? Let us help!
Having founded DALCO Heating & Air Conditioning back in 1981, we serviced the heating, cooling and air quality needs in homes and businesses across the Denver area for decades. We've heard it all. We've seen it all. And fortunately, we've repaired (or replaced) them all.
There are many times when we come out to perform service call on a homeowner's furnace or air conditioner, we uncover an issue that was minor enough for the homeowner to fix it themselves. We are happy to help you save time and money if we can help you handle your home's heating or cooling problem on your own with some professional advice. Fill out our form below or give us a call at 303-979-7541 and let one of our experienced heating and air conditioning technicians help you find the solution or answer to your question.
Our office hours are 8:00 a.m. to 5:00 p.m. Monday through Friday. Call us during office hours to schedule a repair or installation. You can also request service from us online.
Anytime you need emergency service, even after hours, call us at 303-979-7541.